Department of Homeland Security won't ground you
We reported this month that your New Mexico driver's license will continue to be valid identification to board airplanes next year.
The U.S Department of Homeland Security was our source, and it expanded on its stand Thursday.
In a statement, the agency said only 13 states had met the standards of the REAL ID Act of 2005 for driver's licenses and identification cards.
Not to worry, Homeland Security has granted a temporary deferment for all other states and territories, including New Mexico and Texas.
It means that, with your New Mexico license in hand, nothing in your flight plan will change. This from Homeland Security:
 
"Beginning Jan. 15, 2013, those states not found to meet the standards will receive a temporary deferment that will allow federal agencies to continue to accept their licenses and identification cards for boarding commercial aircraft and other official purposes."
New Mexico and Texas are in the majority of states that "have not provided sufficient information at this time for DHS to determine if they meet the act's requirements. These states will have an opportunity to respond with additional information before DHS makes a final determination. DHS will continue to receive and review state submissions on a rolling basis."
What states are in compliance? Here is Homeland Security's list: Colorado, Connecticut, Delaware, Georgia, Iowa, Indiana, Maryland, Ohio, South Dakota, Tennessee, West Virginia, Wisconsin, and Wyoming.
New Mexico residents were especially concerned about the REAL ID Act. Gov. Susana Martinez has said that New Mexico licenses would not be valid for boarding aircraft next year.
But Homeland Security says otherwise.
Martinez for two years has been in a political fight over drivers licenses with many Democrats in the state Legislature.
At issue is a 2003 law that enables illegal immigrants to obtain New Mexico driver's licenses. Martinez wants the law repealed. Democrats such as Sen. Michael Sanchez, the majority leader in his chamber, have fought to keep the licensing law but add provisions to reduce fraud.
Homeland Security has, at least for the coming year, rebutted one of Martinez's arguments -- that a New Mexico license has been devalued in the eyes of the federal government.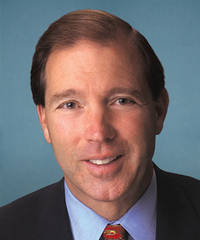 U.S. Sen. Tom Udall, D-N.M., left, said he was pleased that Homeland Security provided clarity, though he wanted it faster. 
"While the announcement should have come some time ago, New Mexicans can now feel confident in going about their business using our drivers' licenses, whether it is for use in holiday travel, entering federal buildings or other activity where proper identification is required," Udall said in a statement.
The ACLU, among other critics of the REAL ID Act, predicts that it will never be implemented.
Twenty-five states have said they will not comply. Their position puts the federal government in the position of continuing to roll back deadlines.