Fact-checking the lieutenant governor
   His account of casting ballot for Ronald Reagan in 1980 doesn't add up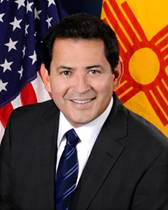 Lt. Gov. John Sanchez, good Republican soldier that he is, told a curious story at the party's state convention on Saturday.
Sanchez spoke of the pride he felt as an 18-year-old when he voted for Ronald Reagan in the 1980 presidential election.
The curious part is that every record we have checked shows that Sanchez was born on Jan. 11, 1963. Therefore, he would not have reached the legal voting age of 18 until 1981 -- two months after Reagan's election.
Sanchez could be older than his stated age of 49, meaning various biographical data and public records about him are incorrect.
Or perhaps his account of voting for Reagan as a teenager was an embellishment to inspire his audience.
After all, how good would the story be if Sanchez said he voted as a 21-year-old to re-elect Reagan in 1984?
The third possibility, though it would stretch the imagination of even a conspiracy theorist, is that Sanchez voted for Reagan illegally.
New Mexico's least effective sleuth, Secretary of State Dianna Duran, publicly said last year that she had evidence of more than 100 people voting unlawfully.
Sanchez was not among Duran's suspects, but his own testimony leaves him open to her next great investigation into voter fraud.